Guest Post: 9 Ways to Have a Fairy Tale-Inspired Bedroom
9:00 AM
Hey y'all! I've got a special treat for you today! I'd like to introduce my new friend from across the pond. She's the greatest but I'll let you get meet her yourself...
"Hi everyone! I am Kathy Joe and I worship home décor and everything beautiful. It is like food for my soul. I am so delighted to become a part of Margaret's wonderful blog today! You can get a sneak peek at more of my work here.
9 Ways to Have a Fairy Tale-Inspired Bedroom
Every little girl and many little boys love fairy stories! There is always a clear distinction between the good guys (us, of course) and the bad guys (boo, nasty!) Backgrounds and landscapes are always more beautiful than real life, with no pollution, distractions or eye-sores allowed. Why not create a small piece of a fairy-tale in your home, by making the perfect bedroom of your dreams?
1. Masses of White Lace
For a lovely ethereal effect, fit for a princess, fill your room with masses of lace from the curtains to the pillowcases! If you opt for a pure white room, you can easily achieve a beautiful Ice Princess look, perfect for fans of the latest animated fairy tale, Frozen!
2. Mythical Creatures
Did you know that pure maidens (virgins in other words!) can control unicorns with reins as fine as cobwebs? Fill your walls with wonderful mythical beasts and creatures, from fire breathing and treasure loving dragons, to gleaming silvery unicorns; from winged Pegasus's (Pegasi?) to grumpy but loyal griffons. Find specialist wallpaper or apply your own painted works of art directly to the wall to give your whole room a gloriously surreal background.
3. Gentle Lighting
No hero or heroine wants to be blinded with harsh overhead lighting, or need to grope in the gloom for protective wands, swords or spell books! Fill the bedroom with soft diffused lighting that is kind to sleepy eyes and just right for adventuring through the night!
4. Magnificent Beds
Every fairy story bedroom should be set around a marvellous four poster bed. Decorate the posts to form part of the scene of your favourite fairy tale, be it Rapunzel's stone-built tower, Sleeping Beauty's thorn covered castle or even a magical enchanted forest.
5. Gauzy Curtains
Fill the bedroom with ethereal floating fabric, to create a swooningly feather-light ambiance. Masses of light chiffon, muslin or voile will fill the room with eye-catching softness and unreal charm and delight. Choose colours that summon up characters from your favourite fairy tale to complete the theme. For all sorts of dreamy and divine curtains and bedding, my top favorite place is
Yorkshire Linen Co
.
6. Wall Hangings
Disguise the mundane reality of your bedroom's plaster and paint, by covering the walls with rich fabrics and tapestries, to create a fabulous medieval castle all your own. Silken draperies add a rich lustre to any room, and brocade fabrics are wonderfully old-fashioned and strong, sure to keep out every draught and chill from the outside world. For artistic and over-whelming wall hangings, my favorite is
Surface View
.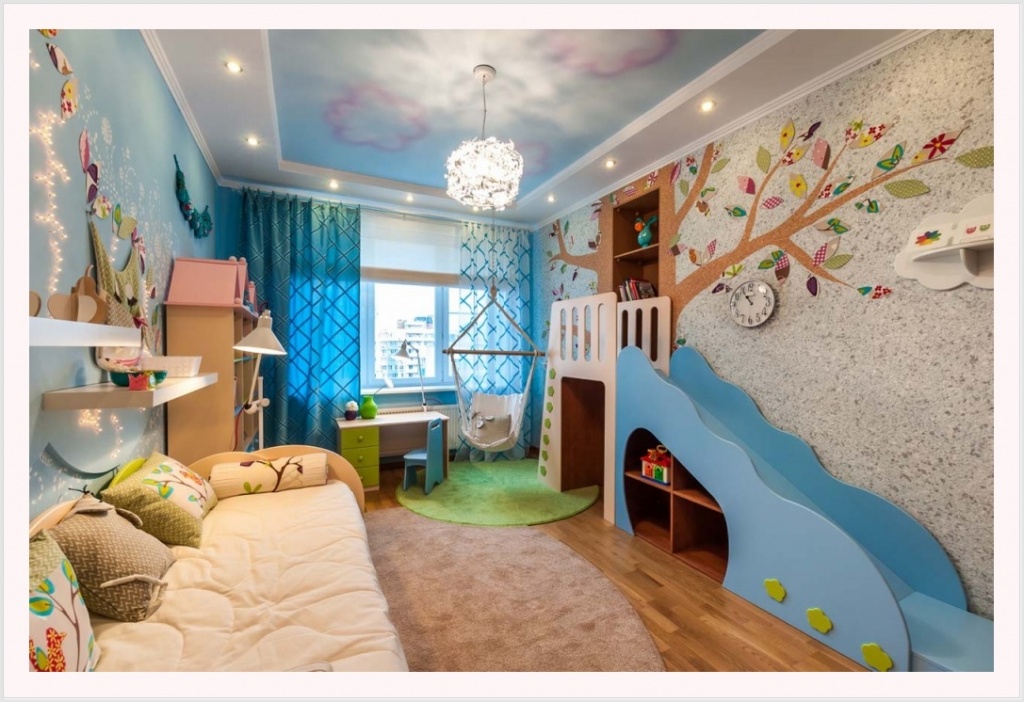 7. Butterflies
Butterflies are exquisitely beautiful creatures and if they did not exist, we would wish that they did; just as we do with fairies, unicorns and mermaids. Do not be restrained in your fairy tale bedroom, rather, break out into butterflies! Adorn your walls, your bedding and your curtains with the most beautiful insect in the world, then lie back and be transported into a warm summery meadow as you dream sweetly.
8. Signature Piece
Every fairy tale bedroom needs a large dreamy and dramatic signature piece that sets it aside from normal bedrooms. It can be the seven dwarfs, painted hard at work mining their way into the wall, or the three bears, peering around furniture in search of Goldilocks fast asleep on Baby Bear's bed or even Optimus Prime transforming on the far wall – the only limit is your imagination!
9. Wonderful Wallpaper
Search your DIY stores and find wallpaper that perfectly blends with your favorite fairy tale. If you cannot find wallpaper or decals that are exactly from your chosen theme, then why not choose paper that picks out themes close to your favorite tale, such as cute animals, beautiful flowers and landscapes or even seascapes for those who are passionate about mermaids?"
1
|
2
|
3
|
4
|
5
|
6
|
7
|
8
|9
Growing up, I was OBSESSED with the idea that I was secretly a princess. It doesn't help that I share a name with Princess Margaret Rose. Anyways, I love all this whimsical décor! Thank you, Kathy! I can't wait until I have kids to decorate their rooms like this!