My First Guest Post :)
8:44 PM
Woot woot! I'm so excited! Today you can find me over at While He Was Napping. I'll be sharing my Newsprint Nails Tutorial. Go check it out!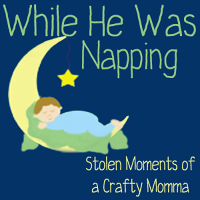 While He Was Napping has an awesome linky party, Weekend Wander, lots of recipes, crafty tutorials, and a bunch of kid friendly ideas and activities.
Here's some awesome stuff you can find at her blog:
This is amazing!
I'm just drooling over this!
This is pretty neat :)
She's even got a cute
etsy
shop :)
So what are you still doing here? Go check it out!